Minister Ming EMO Press Conference Statement 21 September
Monday, September 21st, 2020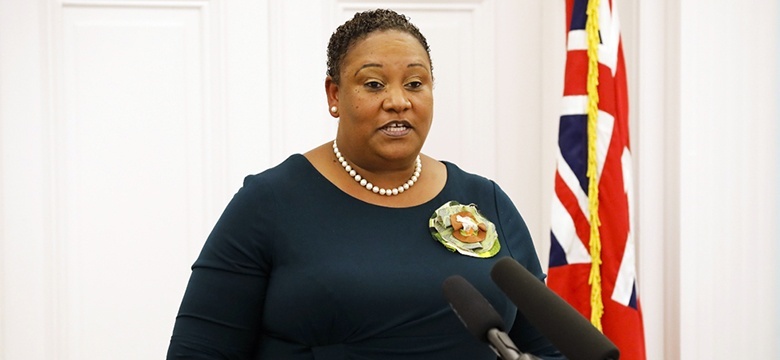 Good afternoon. Thank you for joining us today for an update on Hurricane Teddy. I am joined by Ms. Kelly Trott of the Disaster Risk Reduction and Mitigation Team.
We also have the Director of the Bermuda Weather Service, Dr. Mark Guishard with us on the call. Dr. Guishard, please give us an update on Hurricane Teddy.
Following this afternoon's Emergency Measures Organization meeting, I can report:
Public Works structural engineers inspected the Causeway this afternoon and reported that it is structurally sound. The Causeway reopened this afternoon.
Public schools will be open tomorrow.
Updated: The public bus and school bus service is now scheduled to resume normal operations on Tuesday, 22 September.  Ferry service is suspended but will resume operations at 3:00 pm on Tuesday, 22 September.
All government offices will be open tomorrow.
LF Wade International Airport will reopen at 7am tomorrow morning.
BELCO reported that there are two areas where customers are without service. The outages are in Pembroke with 165 customers and Hamilton Parish with 27 customers. BELCO Crews are currently working to restore service.
Garbage collection schedule will be normal for the rest of the week. Garbage scheduled to be collected today will be collected on Saturday. All public waste facilities will reopen tomorrow.
Public Works has identified two locations where there are obstructions in the road. They are South Road, near John Smith's Bay and Barry Road in St. George's. The current state of the surf is hampering efforts to clear the roads. Crews will remove the sand and debris as soon as the winds subside. Motorists are urged to use extreme caution in these areas.
If members of the public are aware of other road obstructions, they should contact the EMO operations group at 261 4366. The phone lines will be operational until 7pm tonight.
The Emergency Measures Organization has given the all clear and residents are free to move around the island with caution.
The decision to shut down the island last night and into today was not taken lightly. As with all hurricanes there is a level of unpredictability. That was the case with Hurricane Teddy. The decision taken to shut down the island was necessary to ensure there was no loss of life; this is always the goal under occasions of uncertainty.
Erring on the side of caution and yielding to common sense will always be my mantra.
Many of you would have seen the many pictures and videos circulating showing damage to so many parts of our coastal regions. I ask you to be very careful as the landscape on all of our beaches has changed. Exercise extreme caution when visiting those areas as I know there has been significant damage in many areas.
I have seen the pictures of people playing in the surf. While there is a level of thrill and excitement I must urge everyone to exercise caution. The waves and current are strong and there is the potential for people getting into difficulty. I urge everyone to stay out of the water.
This has been an active hurricane season, but we are smart and resilient people here in Bermuda. Please continue to exercise common sense.
I extend my gratitude to the essential workers of the EMO and other agencies who worked overnight. Many leaving their homes and family members to serve our country.
Thank you and be safe Bermuda.