Training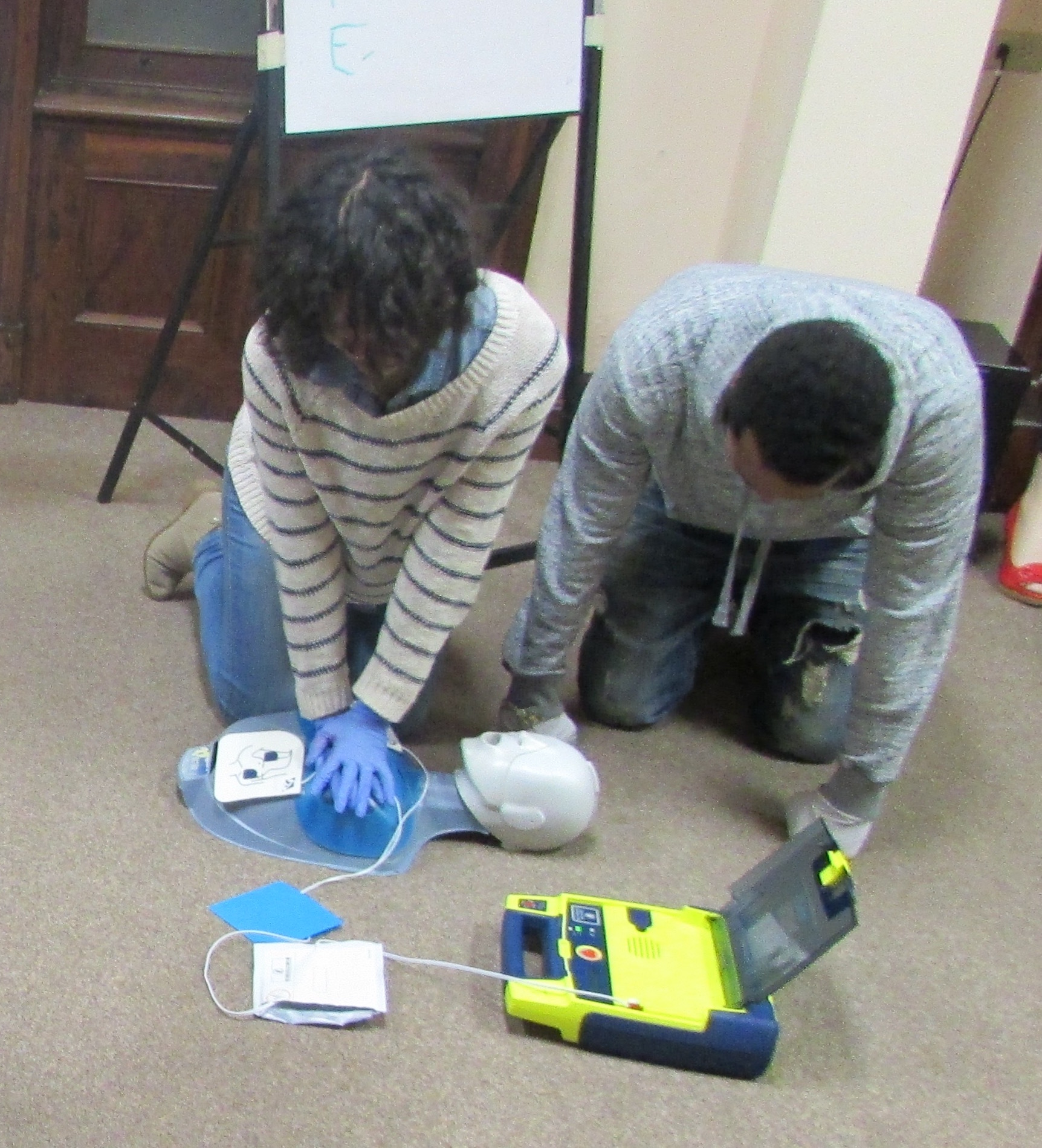 Branch Headquarters, 9 Berry Hill Road, Paget
Phone: 441-236-8253 | Fax: 441-236-8267
Business Hours:
Monday – Friday: 8:30 AM – 4:00 PM
Contact: Petra Spencer-Arscott, Education Manager
Click here for an update training schedule
Click here to link to the Blended On Line Course.
Please note that for some people this link works as a hyper link, for some it works better to copy and paste the link into a browser, you will require Adobe Acrobat DC and an up-to-date Flash Player.  Special Note: This will not work on a smart phone Register by creating a new account, then proceed with the instructions that follow.
In order to move on to the in-person session, students must pass the assessment at the end of the online session and should scan/print/save the "Proceed to Skills Session" Certificate and send to us at time of registration for the practical session.
We provide health and safety courses to train the community to be able to respond to an emergency situation with skills that can save a life.
In the summer of 2011, the protocols for CPR, Automated External Defibrillator (AED) and First Aid went through some changes. These changes happen every 5 – 7 years as the emergency response agencies analyze what works best for lay responders in the throes of dealing with emergencies.
As an authorized provider of the American Red Cross courses, Bermuda Red Cross has followed through and has begun teaching the new program. Certifications are now for 2 years in all areas.
There has been a huge surge in the number of participants seeking certification and Bermuda Red Cross would like to remind the community that booking course space well in advance is highly recommended, as courses fill up very quickly, sometimes as far as 2 – 3 months in advance.
We Offer The Following Courses:
Red Cross Preparedness programs in First Aid, CPR and AED are available for 12 and up and 14 and up and can be tailored to the needs of specific groups and individuals. Whether you work with children, want training for employees, or simply want to know how to help someone in an emergency, the Bermuda Red Cross has a program for you.
We train people to help others who are in need of CPR and/or First Aid. Automated External Defibrillator (AED) courses are also available to train individuals to administer early defibrillation to those suffering from sudden cardiac arrest. Babysitting courses certify students 12 – 16 years of age on how to be responsible, prepared and effective babysitters. CPR for the professional rescuer, oxygen administration and Bloodborne pathogen courses are also available for individuals. We also offer Ideals in Action course, which gives the participant general knowledge about the International Red Cross movement and how the local entities tie in.
Medical Conditions:
The courses below are physically challenging, if you cannot spend at least 1 1/2 hours on the floor to do the full practical sessions we will not certify. Participants who have had recent elbow, knee, hip, heart, lung, or back surgery or other issues such as severe arthritis, emphasyma, or you have breathing difficulties please check with your doctor BEFORE taking the course.
Attendance Policy:
In our continuing efforts to provide the best customer service to our participants and due to our limited class size, we need to ensure that participants attend the courses that they schedule. If a participant schedules a course and does not attend this limits us from allowing the opportunity for another participant to attend the course. Therefore, in fairness to all participants, participants who do not attend their scheduled classes will forfeit the course fees.
Course fees are non-refundable. Participants are able to reschedule 2 business days prior to the original course date. Please be advised that we only reschedule once without charging for the course in full. Effective immediately, there will be forfeited the course fees.
Late Arrivals:
Once the class is in session, participants will be asked to reschedule at the discretion of the instructor, as material that has been covered will not be repeated and we cannot certify if the participant has missed portions of the course. Course fees are forfeited.