Room & Event Rentals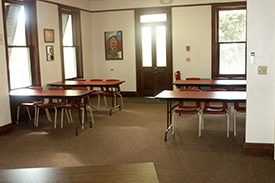 Branch Headquarters, 9 Berry Hill Road, Paget
Phone: 441-236-8253 ext. 226
Contact: Susan Baron
Did You know?
 We have 2 rooms at Red Cross headquarters that are available for rent by private individuals or businesses.
These rooms are very versatile in that you may host either birthday parties, board meetings, informal corporate events or special training classes.
We are conveniently located 5 minutes outside of town and parking is available. Both rooms include chairs, tables, 50" flat screen tv, dvd player and wifi. Projector and screen can be available for an additional fee. There is also a kitchen and bathrooms. Prices start at $40.00 and go upto $150.00.
Small Training Room
my reviews amazon essay writer
This room can be set up to hold from about 8 persons board room set up to 25 person stand up cocktail reception.
Large Training Room
This room can be set up to hold from about 12 persons for a classroom style set up to 50 persons for a stand up cocktail reception.
Event Equipment
We also rent various event equipment such as:
clipboards,
tablecloths (black or white)
rope lighting
red carpet (3ft x 20ft)
plexiglass frames (portrait & landscape).