Last Press Conference Before Bermuda Shelters In Place
(Click on image below to watch press conference)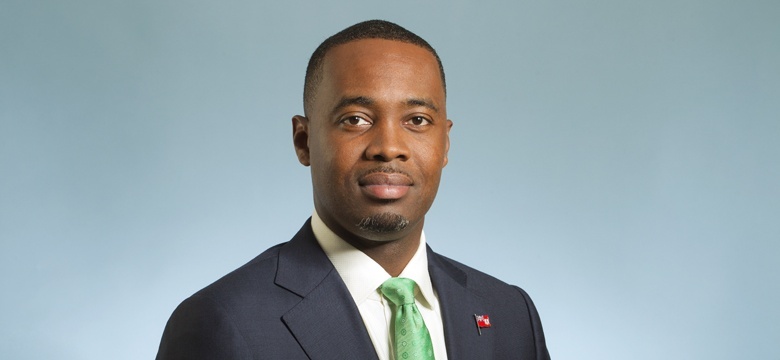 Good afternoon everybody.
This afternoon I am joined by His Excellency the Governor, the Minister of Health, the Minister of National Security and Dr. Cherita Rayner from the Mid Atlantic Wellness Institute.
I will give a brief update and turn it over to the Minister of Health to discuss testing items, then His Excellency the Governor will speak on the shipment from the United Kingdom and the flight that is coming in. The Minister of National Security will then provide an update on the operational matters governing the Shelter in Place order and then finally, Dr. Rayner will discuss matters dealing with our health and well-being during this time.
I would like to preface my COVID-19 update today with some good news. News that reassures us that in the midst of this crisis there are many people in private businesses in our community demonstrating kindness and compassion. They are doing things to better our lives.
I would like to publicly acknowledge the kindness and compassion of one of our good corporate citizens. Earlier today I received an email from Ms. Judy Gonsalves, Division President of Chubb Bermuda. Chubb has generously supported the needs of front line essential healthcare services by funding the monthly rental costs for Twizzys, to help essential personnel who do not have transportation to get to and from work. They have donated $52,000 to Bermuda Hospitals Charitable Trust foundation to assist with additional equipment, including ventilators.
I would also like to recognize the generosity of PwC Bermuda, who earlier this week made a donation of $50,000 to the Bermuda Community Foundation Emergency Fund, and have committed to providing surplus laptops to the Bermuda public school system.
Since the start of COVID-19 pandemic. Bermudians have seen their lives, disrupted and changed in ways that we could have never imagined just a few months ago. Social distancing, a concept many of us have never heard before, has now become the new norm in social interaction and many of us have seen jobs and or incomes disappear.
Today, I can confirm that there are no new confirmed cases of COVID-19 in Bermuda to report at this time. As there are no additional test results received by the Ministry of Health. There are 33 outstanding tests. Out of the 35 confirmed cases, 14 persons have fully recovered and four remain hospitalized in stable condition.
At this time the Minister of Health will provide further details on the testing that is taking place, and additional supplies, which we're expecting to bolster our testing regime.
Minister of Health's Comments.
Good Afternoon,
Thank you, Premier.
As we enter into the next 14 days, I want to echo the Premier's words of reassurance and remind the community that we are all in this together. We are all facing hardships of some kind in the days ahead.
But the price to pay if we do not; is too great to bear.
We only get one chance to do this and do this right…to stop this virus in its tracks…to ensure our health system is not overwhelmed…to save lives.
We go into this half-heartedly, and lives will be put at risk; businesses and restaurants will be closed longer; our economy will take a greater hit and families will continue to be apart.
The health of our community is in your hands. Please be compliant. Isolate immediately if you get ANY respiratory symptoms; call your doctor and stay in your own home.
Another point that I want to stress is specifically for those individuals with chronic diseases: Please manage your chronic conditions so that you don't run into complications during this period. Take your medications and comply with your doctor's instructions fully so that you don't need additional care or hospitalization during the next two weeks.
Also, I want to remind the public that doctors' offices are exempt from the impending movement restrictions.  Doctors' offices will not be closed…although some may be operating with restricted hours and services. We do not want a situation where our hospital has a flooded Emergency Room.
International guidance supports the opinion that maternal health, child services, immunization services, acute illness visits and chronic disease management are services which should continue.
This brings me to modified clinic services at the Hamilton Health Clinic during the next two weeks…
The public are advised that there will be no walk-ins at this time.   All visits are by appointment only.
For minor ailments in children as well as child and adult immunization contact 278-6460. Appointments will be available Monday to Friday at the Hamilton Health Centre from 8.30am to 11.30am.
'Well infant' checks will take place from Monday to Friday 2pm until 4pm at the Hamilton Health Centre by appointment only. The contact number is 278-6460.
For the Maternal Health Program, contact 278-6441.  Again, all visits are by appointment only.
Antenatals will be seen Monday, Wednesday and Thursday mornings from 8:30am to 12:30pm.
TDAP immunizations will take place Friday mornings from 8:30am to 11:30am. 
Contraceptive injection clinic appointments will be on Tuesdays from 8:30am to 11:30am and Fridays (2pm-4pm).
For the Communicable Disease Clinic, contact 278-6442. Testing will be carried out by appointment only from Monday to Thursday 8:30am to 11:30am; while consultation and medication collection will take place Fridays from 8:30am until 11:30am. Again, all visits are by appointment only.
For community Health Nursing services contact 292-3095.  
Regarding testing capability, with the generosity of Roche Bermuda's supply of two additional testing instruments along with two laptop operating systems to run them, there will be the additional capacity to conduct tests in Bermuda. This will heavily ramp up our testing program as we will be looking to add to our current testing facility to offer more widespread screening of our population to combat this viral outbreak. With the additional testing supplies scheduled to arrive on the BA flight next week, we will be able to test approximately 2,000 persons.  Public Health England, through Crown Agents, have indicated that they will provide this same level of testing capabilities to Bermuda on a weekly basis.
An additional testing centre will be set up and validated according to WHO guidelines, not only to assist the national diagnostic efforts, but also to expose our Bermudian university students who are already educated in the field, and have previous laboratory experience, to what is certainly an emerging field of work. This new laboratory will be under the direction of Dr. Carika Weldon. The new machines and test kits will arrive on Monday on our already announced AirBridge BA flight.
I want to thank my team at the Ministry of Health who have been working tirelessly over the past 12 weeks to ensure the impact of COVID-19 to our island is minimized as much as possible.
My staff really have been working long hours – evenings and weekends without break – to do this work.
We have stressed that social distancing is vital to containing covid. I have remind everyone that to reduce the risk of spreading COVID-19 in grocery stores, the below recommendations should be implemented:
Maintain a physical separation of 6 feet from other shoppers.
Use store hand sanitizers entering and leaving the stores.
Avoid cash transactions as much as possible and use a delivery option if available.
If you bring your reusable bags, sanitize them first.
Pack your own groceries so that fewer hands have touched your purchases.
Only buy what you need.
And finally, if you have the responsibility of caring for vulnerable persons in their own homes, there are several actions you need to take immediately to protect yourself and those you care for, to lower the risk of contracting COVID-19.
These include:
Practicing safe, effective hygiene for the protection of your client and yourself.
Staying at home if you are sick.
Preparing a plan for back up care providers for times when you are ill. 
This is because seniors, healthcare workers and persons with chronic medical conditions like heart, lung or kidney disease, diabetes or frailty are at higher risk for illness from COVID-19 disease.
Please look at the guidelines posted on the Government website for full details.
Thank you and stay safe and well, Bermuda.
Thank you, Minister of Health, and I would like to echo the comments from the Minister of Health with thanks to the team inside of the Ministry of Health for all of their incredible dedicated work.
Members of the media should note that you've been used to these press conferences, which are taking place, but because the Ministry of Health has been doing so much work on going to make sure that our next press conference will not be until Monday. So while we actually start the Shelter in Place there might be a little bit of rest and relaxation for the very, I would say overwork team at the Ministry of Health.
They're busy preparing reports for me on a daily basis to keep us updated, but I think that we all need to make sure we have some downtime to recollect ourselves as the Minister always reminds us that this is a marathon and not a sprint, and we will be dealing with this viral outbreak for some time.
Government House and the Foreign and Commonwealth Office have been working with the Government of Bermuda's London Office and the Ministry of Health to bring back stranded Bermudian students and residents in addition to procuring additional supplies.
His Excellency the Governor will now speak more about this flight which is confirmed for Monday, and the support from Public Health England.
HE Governor's comments.

Thank you, Governor.
The Ministry of National Security, our Bermuda Police Service and the Royal Bermuda Regiment have played a critical role in helping our community to preserve law and order throughout the COVID-19 pandemic. I now call upon the Minister of National Security to provide an update on the implementation of the Shelter in Place order.

Minister Of National Security Comments Summed Up
Grocery Shopping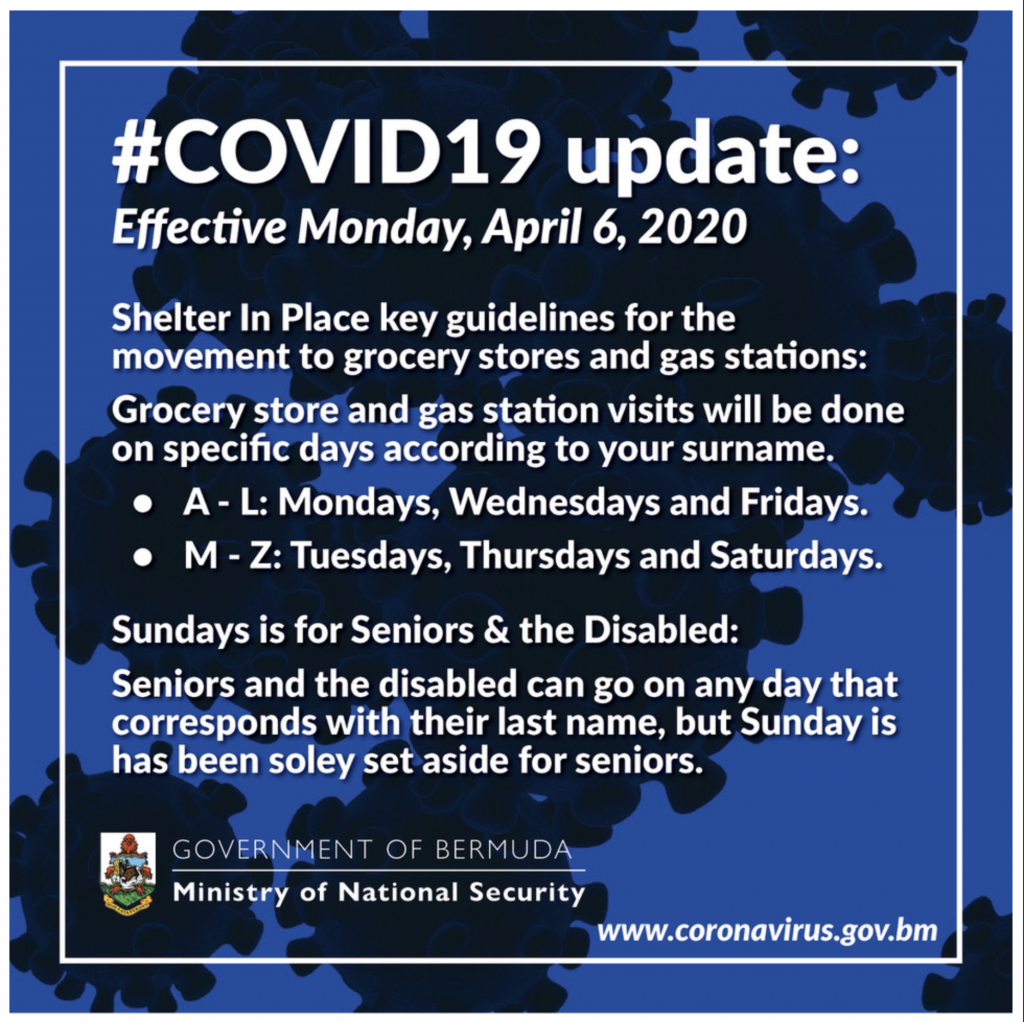 Emergency-Powers-COVID-19-Shelter-in-Place-Regulations-20201
The Emergency Powers [COVID-19 Shelter in Place] Regulations 2020 have been posted online, with the regulations stating that "except as permitted by these Regulations, no person shall leave his home at any time of the day or night from 6am on 4 April 2020 until these Regulations cease to have effect."
The document states, "A person may leave his home during the curfew for the following purposes only, and provided appropriate social distancing is maintained at all times.
Essential visits to a permitted business, during the hours of 7am to 7pm only
Essential medical appointments, during the hours of 7am to 7pm only [except for an emergency situation or scheduled appointment outside that period]
For a walk or run, alone or with one other member of the same household, for a maximum period of sixty minutes per day during the hours of 7am to 7pm only, remaining at all times within a distance of one kilometre [half a mile] from his home;
To assist elderly or vulnerable relatives or neighbours, during the hours of 7am to 7pm only [except for an emergency situation]
"For the avoidance of doubt, a minor child of parents who do not live together shall remain at the home where the child is living on commencement until these Regulations cease to have effect.
"Persons listed in Schedules 1 and 2 are exempt from the curfew, but only when on official business, working or travelling to and from work, and all such persons shall carry identification at all times and show to an enforcement officer on request."
Some other extracts from the regulations:
"During the curfew, a permitted business may open between the hours of 7am to 7pm only [except for a hospital or other health facility].
"A permitted business which is a retail grocery store or pharmacy may make deliveries to customers between the hours of 7am to 7pm, subject to compliance with directions published by the Minister of National Security on the website www.gov.bm/ coronavirus.
"During the curfew no person shall visit any other person's home or allow any person to visit his home, except as provided by regulation 3(2)(d);
"No person shall operate a boat or jetski for any recreational purpose during the curfew, except for an emergency situation.
"Graveside funerals are permitted with a maximum of ten mourners, plus the officiant and funeral home staff, provided appropriate social distancing is maintained at all times
"During the curfew—no person shall visit any other person's home or allow any person to visit his home, except as provided by regulation 3
"No person shall access any public beach, park [including the Railway Trail] or playground during the curfew
"A person who fails to comply with any of these Regulations commits an offence and may be arrested without warrant, and is liable on summary conviction to a fine of $10,000 or a term of imprisonment of six months, or both
In addition to these official regulations, Minister of National Security Wayne Caines announced this evening that grocery stores, pharmacy and gas station visits will be done on specific days according to your surname, which apparently does not start until Monday – the actual Shelter in Place order starts at 6am on Saturday.
Thank you, Minister Caines and I'd like to extend thanks of Bermuda to Minister Caines, his team at National Security, and the COVID-19 EMO, the Bermuda Police Service and the Royal Bermuda Regiment for their service during this difficult time.
Many of our fellow Bermudians were already facing tremendous stress before the COVID-19 pandemic. We recognize that the past few weeks of uncertainty, reduced incomes and the inability to move freely around our island during the evenings, have added to that stress.
The 14 days of Shelter in Place will be difficult for many of us. Support has been put in place to help families during this difficult time. And at this time I've asked for Dr. Cherita Rayner of the Mid Atlantic Wellness Institute to speak on how we can each cope with a shelter in place requirements and the resources available to assist, if at any point, any of us need additional help and support.

Dr. Rayner's comments noted phone numbers that can be called at this time for assistance.
Mental Health Crisis line:  239-1111
Community Mental Health Clinic Triage Nurse 8am-8pm:  249-3432.   
Afterhours Resource line:  249-3258
Child and Adolescent Services Community hotline – 249-3370
Child and Adolescent Services main line Mondays to Fridays. 9am-5pm:  239-6344
Turning Point: 239-2038

Thank you, Dr. Rayner.
Now I'm going to give a few closing remarks while actually covering topics of an emerging homemade mask industry in Bermuda. The flights repatriation flights for persons from the United States, and closing comments.
Just as a note on an update from the Ministry of Public Works that the public drop off at Tynes Bay they will close for two weeks beginning at 7pm tonight. Remember the objective of Shelter in Place is for people to stay at home as much as possible. Regular trash collection will continue. but the objective is for persons to stay at home.
Two weeks ago, Mrs. Sheila Tyrrell called me to suggest that we could help ourselves by producing our own face masks. As a sewer herself, she started this initiative with the intention to provide masks for her family and friends, and later decided to get the Government on board with the idea of having persons, making masks locally.
The idea is that this is an open community initiative to get people to be creative and make some really cool masks for their immediate household and friends, and possibly others. A team comprising Miss Tyrrell, her daughter Keisha and two Ministry officers, Miss Georgette Trott and Miss Trina Bean had been leading this initiative.
The message is that we are all in this together and to encourage people of Bermuda to make masks for their friends and families. The masks can be made from items already at home, such as old bedsheets pillowcases, t-shirts, as long as they are 100% cotton.
There are some places where they require a mask to be worn by persons outdoors and though the science is emerging in what we would encourage persons if they do have masks and if they are going out shopping during the week that they should look to wear them. To be clear, masks will not protect you from contracting or receiving the coronavirus. What mask will do is if you happened to be an asymptomatic spreader, will prevent you from possibly spreading those to other persons. And I think that's an important distinction. Wearing a mask does not mean that you should not wash your hands, should not means you should not use hand sanitizer. You should do it in addition to all the other things of which you are currently doing.
There are how to videos online on how to make the mask and we are going to post one to the website coronavirus.gov.bm, should budding seamstresses wish to try their hand at making them.
Also, while doing this research the team discovered that there is a thriving cottage industry in Bermuda already, where several seamstresses have been making and selling masks for weeks. We have some examples on display this afternoon, and you will readily see that there are some very creative and colorful examples.
So far, we have identified four entrepreneurs who have sold hundreds of masks already, and we are sure that there are others who are doing so. We are happy to provide their contact details for those who may not have access to a sewing machine or a family member who knows how to use one and those will be posted to the government website. They are Miss Gay Simmons, Qui-Ja Fabrics, Miss Carla Souza at Revive Boutiik, Dr. Dena Phillips and Miss Gina Flood at All Things Sassy. Yes, we are entering into a period of Shelter in Place, but I'll be speaking to the Minister of National Security to figure out how we can make sure that we can get an exemption so that persons may be able to provide these masks at supermarkets, during our Shelter in Place.
The Ministry of Tourism and Transport advises that Travel Edge, working with the Bermuda Government, the US Consulate and Delta Airlines has arranged for Bermuda residents and US Nationals to be flown home. At 10am on Tuesday, 7 April, a charter flight will depart from Fort Lauderdale, Florida, Hollywood International Airport bound for Bermuda. The flight is then scheduled to depart Bermuda for Atlanta, Georgia, later that day. There will be additional information released this evening from the Government on this charter flight, however tickets are currently priced at $1,000.
Bermuda residence in the United States who ordinarily reside on the island and US Nationals in Bermuda, who wish to return home are advised to take advantage of this opportunity and book this flight directly with Travel Edge. Please contact Pat Trott at pat.trott@traveledge.bm or call 299-8717, and as noted there will be a release from the Government that is going to go out this evening, which provides that particular information.
As I stated previously, there is not any regular scheduled commercial air traffic, out of the airport during the month of April. So if you're a US citizen who would like to return to the United States, or if you are a Bermuda resident who is looking to return home, then please take advantage of this flight.
As a reminder, you will be required to be in a government quarantine facility for 14 days upon arrival. And we have been informed that Delta Airlines will not let anyone board the flight who is exhibiting symptoms of the coronavirus.
Before I end, I want to encourage everyone that for accurate and reliable information on COVID-19, please use the government communications channels as your source. In addition to the website coronavirus.gov.bm. The official social media channels, CITV, either on YouTube or on your televisions at home. The Government of Bermuda has created a WhatsApp broadcast system, where you can send a message to subscribe for information to be delivered directly to your phone. To sign up, all you need to do is WhatsApp 'hi', to 504-6045, and add that number to your contacts list. Since this communications channel has launched 1,500 Bermudians have subscribed and are receiving direct updates from the Government of Bermuda.
In closing, as a government, we have approached this pandemic not from a place of wishful thinking, nor from a place of fear. We have recognized the cold hard facts of this situation, and with the advice to our medical professionals have treated this as a war for the very survival of our country.
Yet through it all, we have all surveyed hopeful that through decisive and reasoned action, we will emerge from this global pandemic even stronger and more resilient as a people. Tomorrow, life will change dramatically for Bermuda. The declaration of a state of emergency, the first in over 40 years, and the institution of a Shelter in Place order for 14 days from 6am, this Saturday represents a new necessary level in our collective war protect the health and safety of our community.
Each of us now has a choice. We can take these days and be selfish, disregard the laws in place to protect all of us, and place yourself and others in jeopardy. We can take these 14 days to engage in unhealthy behavior or binge watch Netflix. If we make any of these choices, we will still emerge no better, no stronger, and no wiser than when we began the Shelter in Place Order.
Instead, let us choose to do what we can and all support each other to use this time in a positive and productive manner. The world post COVID-19 will be unlike anything we have seen. Some economists are warning that the global economy will be as bad,if not worse, than experienced during the height of the Great Recession.
Some of the jobs that had been lost, may be lost forever. Some of the skills that have provided an income for ourselves and others may cease to exist. I encourage each of you to use these 14 days wisely. If all of us see this as an opportunity to learn, to grow, to evolve and to strengthen, we'll be better positioned as a people for a post COVID-19 world. If all you've gained from this time is weight, that will be unfortunate.
Take advantage of the internet's resources, learn a new skill, train, work, grow. Yet growth does not have to be limited to enhancing skills. It can be used to deepen your spirituality, strengthen ties with loved ones, or do those chores around the house that you haven't had a time to tackle, or simply use this as a time to refresh, renew and rejuvenate for the days to come.
Someone recently said to me that I had become your Premier in one of the most difficult times in our country's history, and they remarked that they did not envy the burden that myself or our government has had to collectively bear. I can say that I have never been more humbled than I am today for the opportunity you have given me to serve. The days ahead may be uncertain. The future may seem darker than light, and the work to do seemingly impossible, but I know that I am not alone and none of us in this tiny island are alone.
Thank you. Be safe. Be well, be blessed. And let us all work together to ensure that Bermuda emerges from this a stronger, better, smarter, and positioned to set an example for the world.
Thank you.