Get Tested for COVID-19
For the month of August, the Ministry of Health has partnered with MarketPlace Stores across the Island to offer free COVID-19 Testing.
Please see the list of the dates, locations and times below.
NOTE: As of 29th July 2020, if you are a traveller (resident and visitor), your dates, times and locations have been booked for you. You will receive a reminder email 24 hours before the test day.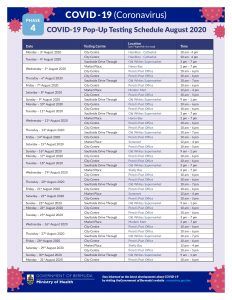 The Minister of Health the Hon. Kim Wilson JP MP said, "I am extremely pleased to announce that the new, permanent testing site for travelers opened in Hamilton today at the historic Perot Post Office. The Ministry of Health and Public Works teams that put this together so quickly did a phenomenal job and the improvements have already been felt by both staff and travelers presenting for their required COVID tests. I visited today and the facility is perfectly located, beautifully set up, and enjoys plenty of shade for persons waiting for their turn. My deepest thanks goes to the incredible individuals and teams who made this happen."