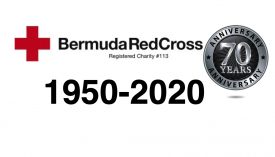 Today we wanted to take a moment to say THANK YOU!

Thank you for supporting us throughout the past 70 years, but more importantly, thank you for supporting us this year so we could be there for our community.

Because of You:

We have been able to work diligently with the Department of Health, Ministry of National Security and Disaster Risk Reduction Mitigation Team (DRRM) to assist with the COVID-19 pandemic.  Our volunteers, Psychosocial First Aid Responders and staff have assisted the Department of Health with screening and tracing all returning residents from March to present. They provided and delivered surgical masks to the most vulnerable (seniors, rest  homes, essential services) and assisted our community with a Help Line for those experiencing emotional challenges. 

Our Equipment Rental, Thrift Shop and Education Departments were able to gradually open up to service the public.  Since the hospital has been releasing patients quicker, we were here to supply the medical equipment needed for home care.  With many having lost their jobs, the Thrift Shop was able to assist families with clothing and shoes for the winter.   We were also able to offer CPR/AED classes which allowed many at-home caregivers the opportunity to re-certify their qualifications so that they could continue to work.

ALL OF THIS HAPPENED BECAUSE OF YOUR UNWAVERING SUPPORT!

Thank You! Thank you! Thank you!

\

Our offices are closed until January 4th 2021. 

We look forward to serving you in the New Year.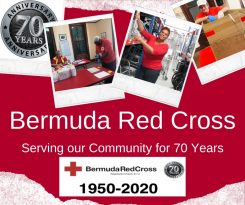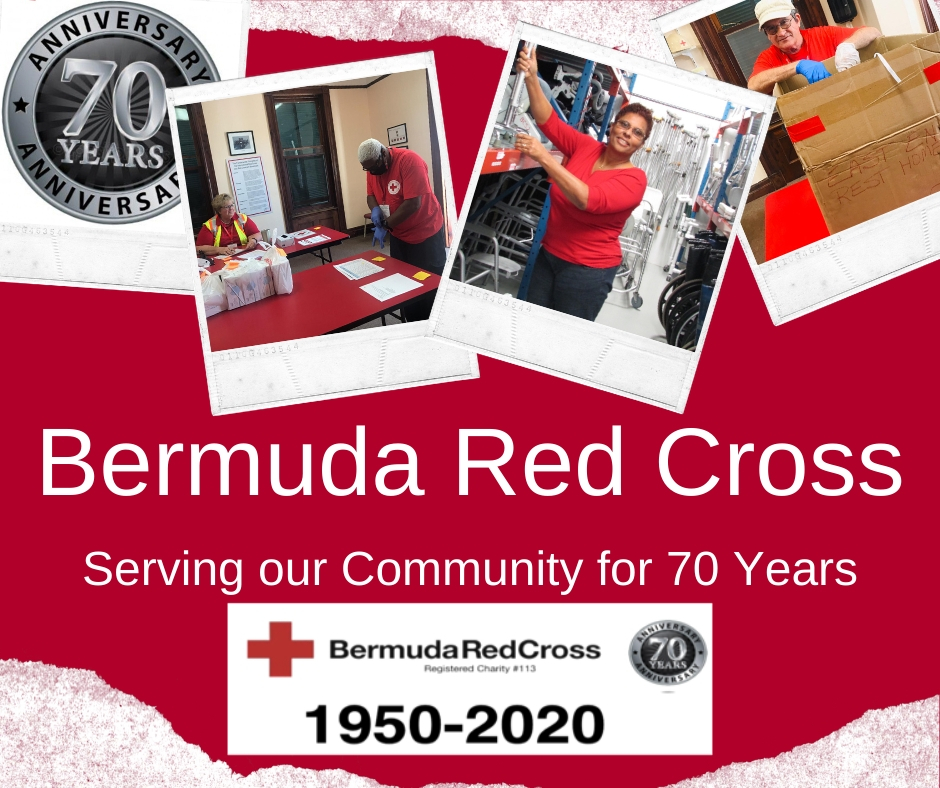 Red Cross keeps taxi drivers safe with donation of masks
Bermuda's taxi drivers will have a safer Christmas after the Bermuda Red Cross yesterday gave them 5,000 masks to help curb the spread of Covid-19 over the holiday season.
Diane Gordon, disaster manager for the Bermuda Red Cross, said of the donation to the Bermuda Taxi Operators Association: "We are sending a very strong message to those coming to our shores that while we greet them with our usual welcoming arms and appreciate the support they are providing to our economy, we also want to ensure the safety of our island and its people by demanding that guidelines are respected and adhered to throughout their stay.
"Bermuda Red Cross supports the Bermuda Taxi Association and appreciates the risk they put themselves in by providing a frontline service.
"We hope our contribution of masks will ensure that anyone using their service will protect not only themselves but others they come in contact with."
She added that since March the charity has worked with the Ministry of Health to provide 240,000 masks to frontline workers and essential service workers.
Ms Gordon said: "When the focus turned to the economy, the Bermuda Red Cross took the position that we wanted to support our businesses and economy while still maintaining the safety aspect of a pandemic."
David Frost, president of the BTOA, said the association was grateful to receive the donation as the masks would not only help protect the drivers, but reduce a potential expense.
Mr Frost said: "We are struggling out there right now. There is not a lot of work so this helps us out quite a bit because the drivers don't have to buy masks.
"Most of the jobs these days are very small because we don't have all the hotels, the airport is quiet and there are no cruise ships."
He said that many taxi drivers have had to manage passengers who did not have masks or did not want to wear them, so the masks were important for the driver's safety.
Mr Frost added: "The association also appreciates the fine job our drivers do by keeping our resident and tourists safe, by following the Airport Passenger Protocols and the Quarantine Act 2017."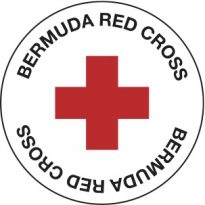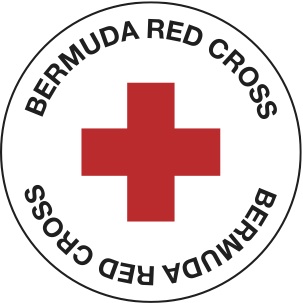 Bermuda Red Cross staff receives British Red Cross 150 anniversary commemorative coin in recognition for her contribution, dedication and passion to the organization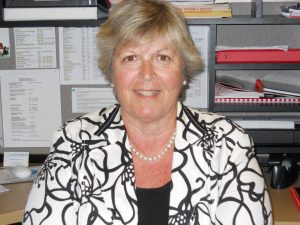 Diane Gordon, Disaster Manager, was one of 150 staff and volunteers selected out of 230 persons nominated to receive a British Red Cross 150 anniversary commemorative Coin in recognition for her contribution, dedication and passion to the organization.  Her commitment exemplifies the work and values of the Bermuda Red Cross, a Branch of British Red Cross.  Below is what was sent to BRC on the nomination form:
"From the start of the COVID-19 Pandemic, Diane has committed herself 150% to our work in the community. She corralled her 42 Responder volunteers and went out into the communities to deliver masks to the most vulnerable – our seniors and to the essential worker agencies. She said yes to the Ministry of Health and Ministry of National Security when asked to take on another task. She worked 14 to 18-hour days and she did so with a smile. She was patient and kind when speaking to the Ministries, agencies or seniors and she ensured the communities in which we work were well and taking care of themselves. She is a true leader and is deserving of the respect she received from the volunteers, essential service and first responder workers and even more so from the seniors with whom she was in contact."
Other news:
Ann Spencer-Arscott, Executive Director and Diane Gordon, Disaster Manager were two of the 50+ representatives from 30 Non-Profits who applied and were accepted to attend the Ignite Sprint Programme for Non-Profits.  This was a customized 4-week sprint programme developed to provide non-profit organizations with key skills to enable growth mindsets, provide models and encourage new behaviours necessary in the current environment.  The aim of the process was to ensure the community leaders were better able to manage their organizations in an under certain environment and remain agile throughout the period of transition.
Out of the Sprint programme, Non-Profits were invited to apply for the Ignite Business Accelerator Programme – Cohort 3.  Ann Spencer-Arscott was accepted into the programme that starts on 9th September with a 2-day boot camp and runs through to February, 2021.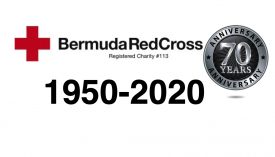 Bermuda Red Cross Celebrates Its 70th Anniversary with Community Fest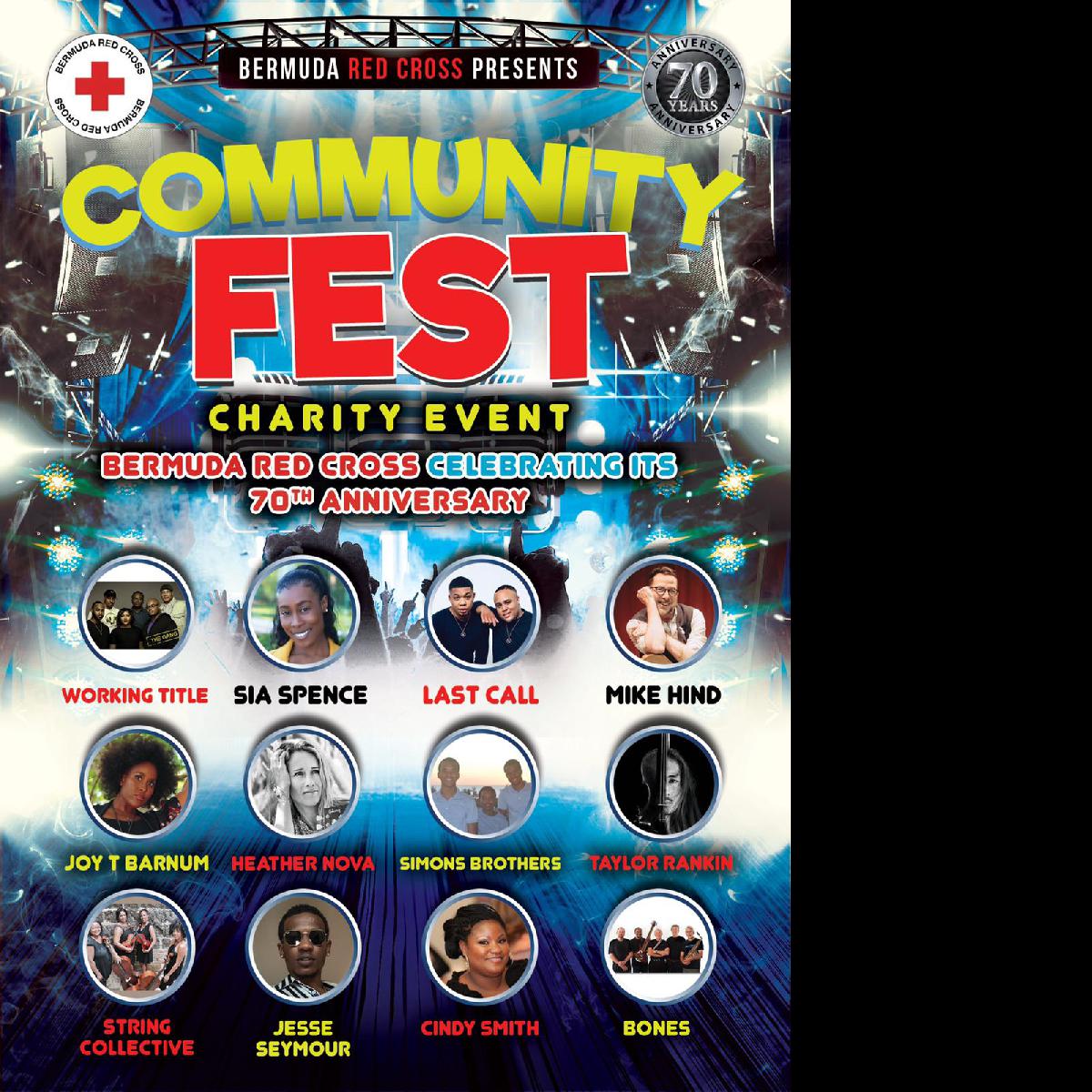 Bermuda Red Cross is a critical humanitarian non-profit, which has served Bermuda over the past 70 years. Before COVID-19 hit our shores, we had planned a series of in-person events as a part of our annual fundraising plan to mark this great milestone.
There were unique events planned for each service area. However, in April, with the closing of our three essential revenue generating areas, all of our plans came to a screeching halt.
The only component of services provided by Bermuda Red Cross to continue to function, in a vitally important way, was the Disaster Management service which was critical in helping vulnerable communities manage through the pandemic.
Looking at a new normal in our future, we've had to either postpone or cancel our events and come up with alternative ideas to ensure our essential service areas are maintained as we work hard to be here for Bermuda for another seventy years and beyond.
With great determination we still want to celebrate this historic event, so on August 1st we are having "Community Fest". This will be a virtual concert featuring 13 acts, all Bermudian singers and bands.  This 7-hour event will be streamed live on YouTube, Facebook, Twitch, Periscope, as well as our website.  There is no admission fee, but donations will be greatly appreciated.
Donations can be made online at https://bermudaredcross.com/donate-money/ or by calling our office at 441-236-8253.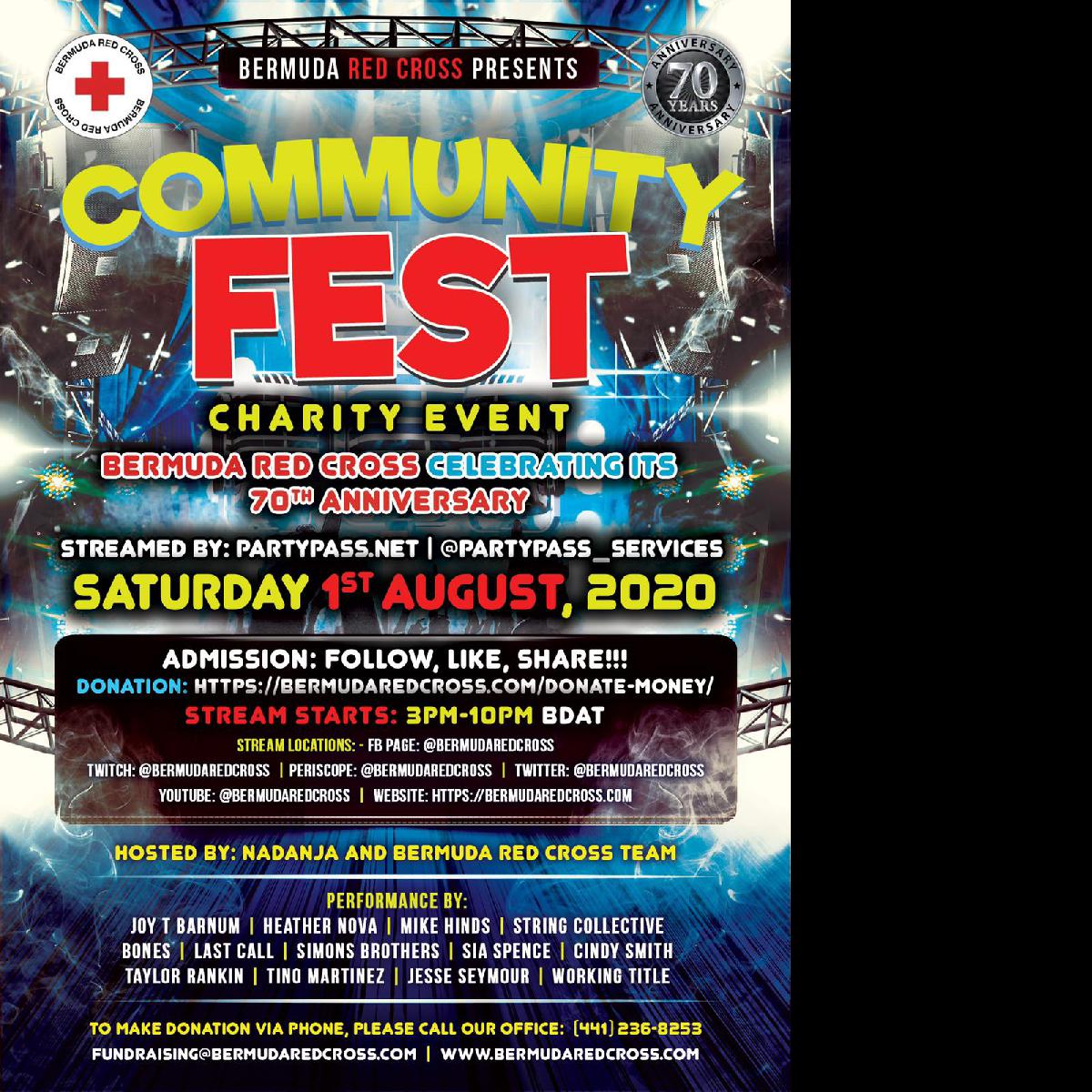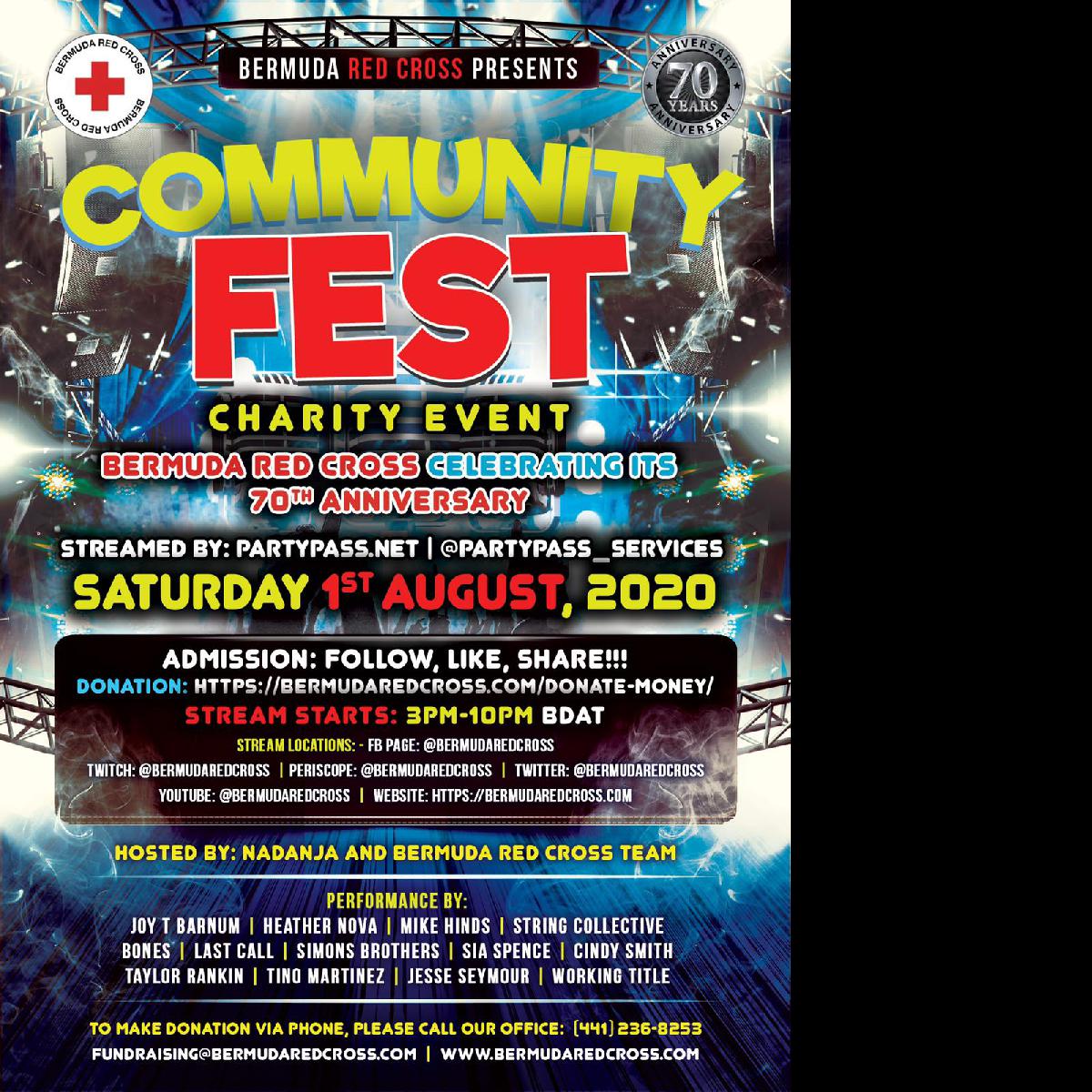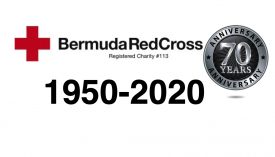 Today is International Nurses Day, Bermuda Red Cross wants to take a moment thank all nurses/nurses-aids for their commitment.
During this time when we can't, you are the ones who care for and comfort our loved ones and for that we are grateful…THANK YOU Nurses of Bermuda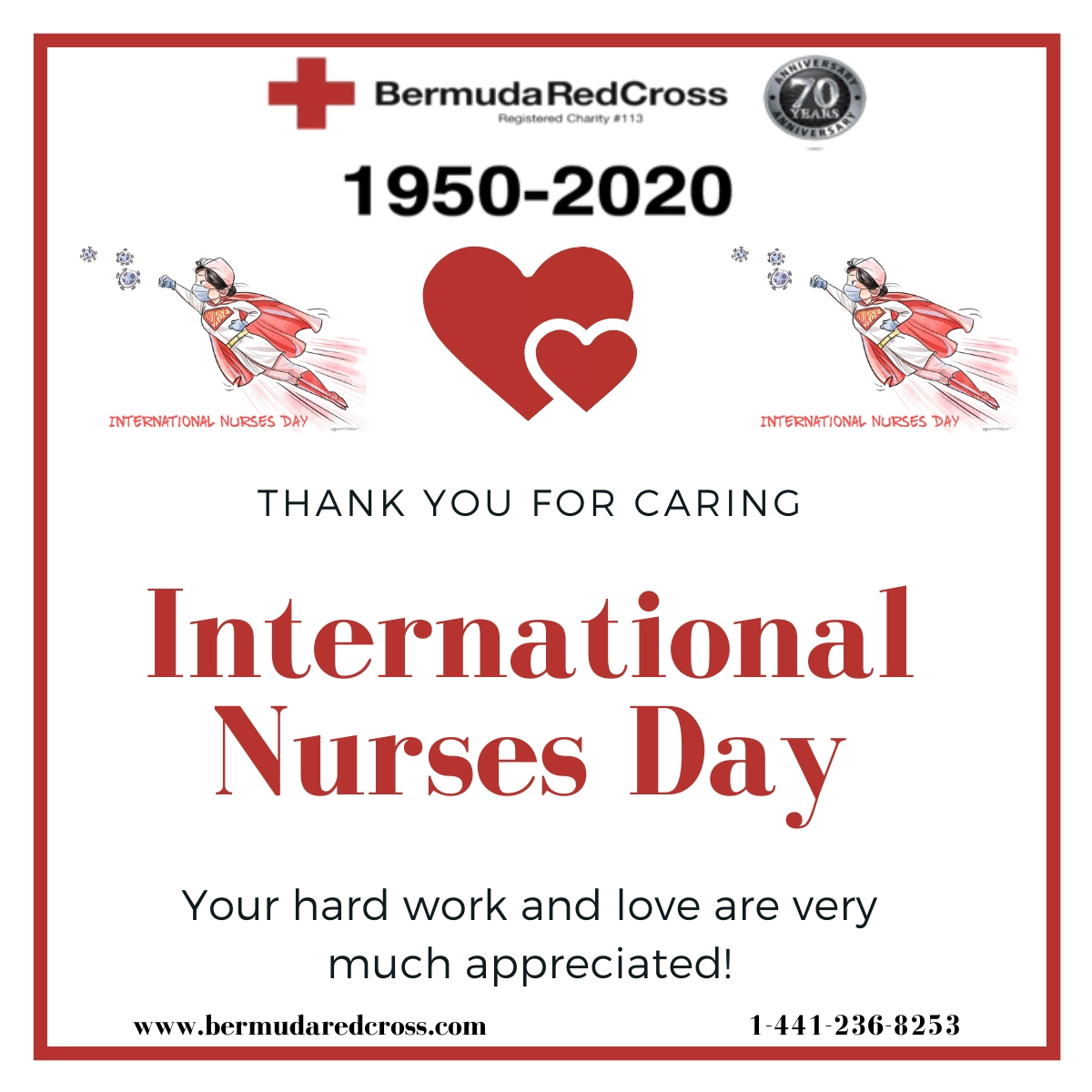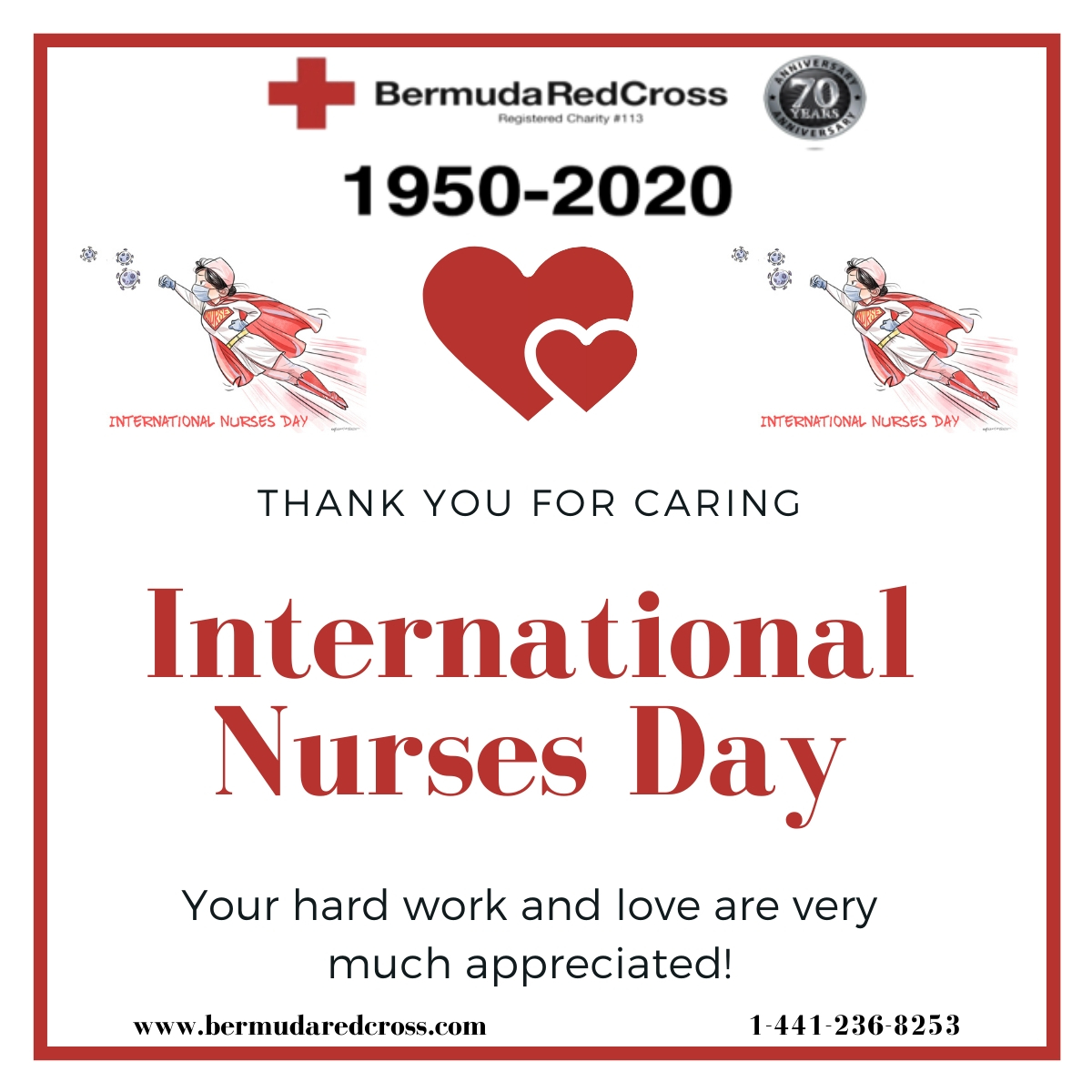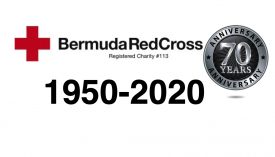 Bermuda Red Cross Celebrates 70 Years of Service To Bermuda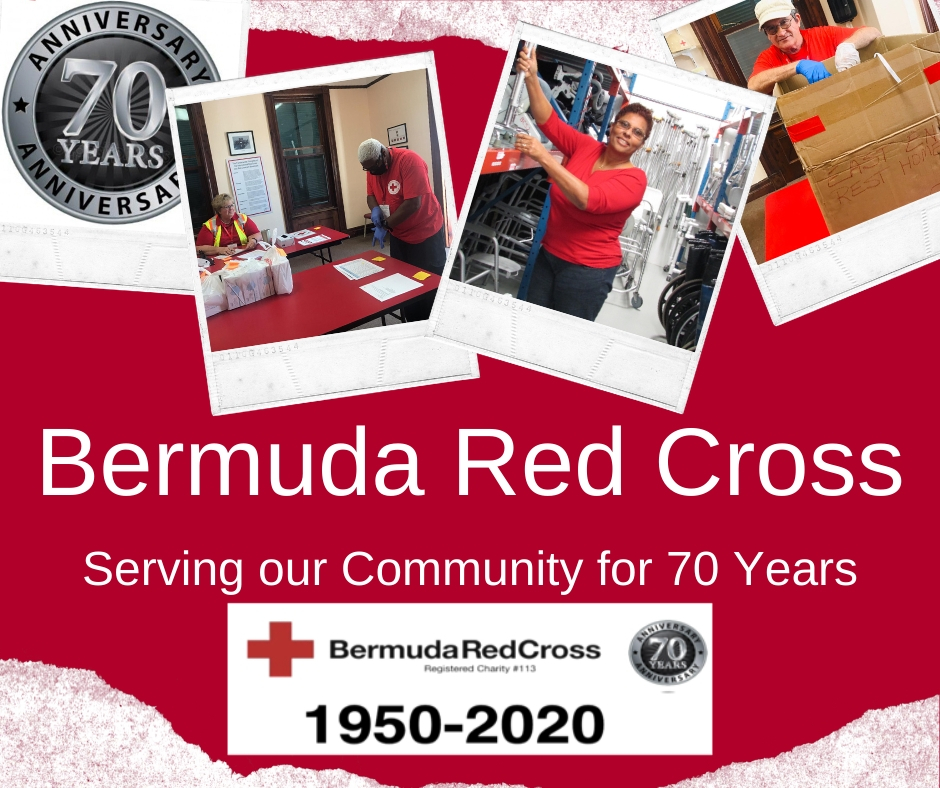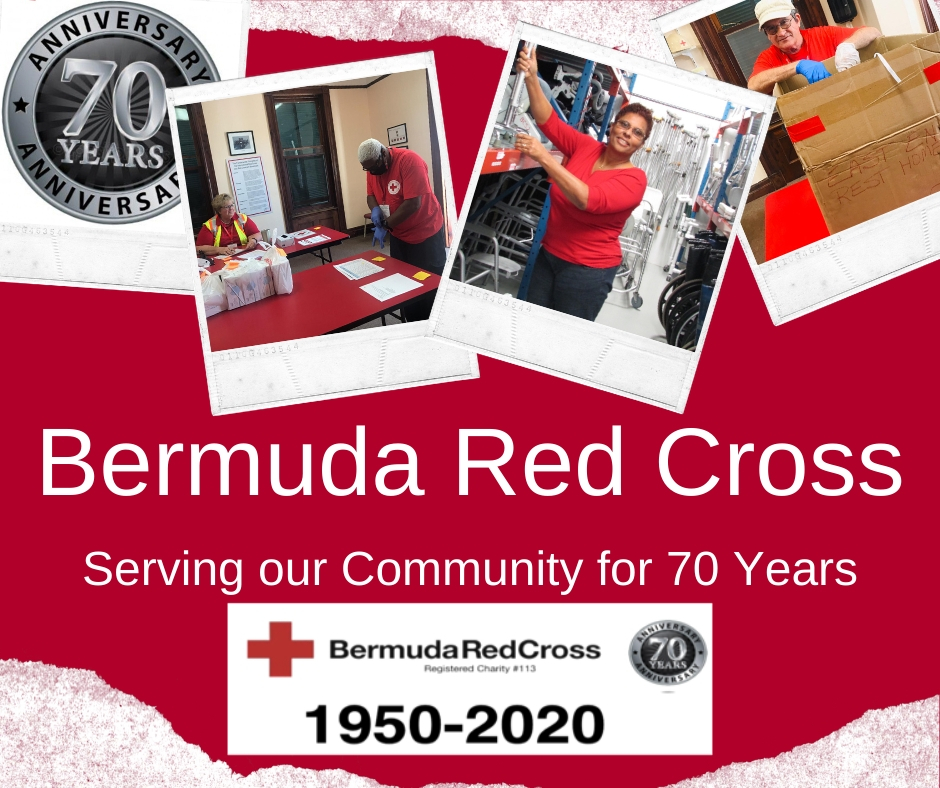 Today is World Red Cross Day, a day for a Non-profit that has been around for 138 years, serving in 192 nations backed by 12,000,000 volunteers.
This year Bermuda Red Cross is celebrating 70 years of service to the community.   We have worked hard to build up our services supporting the communities and make those services affordable to everyone.  Our focus in celebrating our 70th year was to applaud the Bermuda Community for supporting our organisation and services.  However, instead of celebrating we have dug deeper in to the trenches to make sure that Bermuda is safe and cared for.
During this time, we have been working with Ministry of Health to make health check calls to 2,747 persons 2 – 4 times while persons were in isolation.  We have reached out to 905 persons in the communities in which we operate.  81 persons reached out us for mental health assistance.   We have reached between 15,000-17,000 people with the distribution of masks to many different communities – all 21 senior's rest homes, community centers, 21 essential services providers, front line workers, MWI staff, residents and day patients, Workforce Development staff and incoming community, Ministry of Health testing staff, 7 vulnerable communities in which we  work. We have distributed and delivered 91,000 masks.  These masks were given to us by a very generous donor.  We are monitoring the situation as to whether we will need to get more masks.  As a humanitarian organisation this is what we have been trained for.  Red Cross is all about responding to disasters and helping the most vulnerable.  Whilst we had not planned or were prepared for a pandemic such as we are seeing, we were ready to respond and play the role that we are doing.
After we have come out of this war we will be a new Bermuda with a new mindset, and Bermuda Red Cross will be ready to serve you for another 70 years.
Thank you Bermuda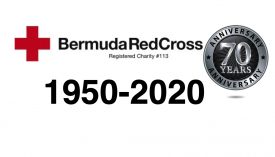 #GivingTuesday is an inspirational day for so many charitable organizations around the world.  Bermuda Red Cross is participating in today's GivingTuesdayNow, and we hope you'll consider joining the community of millions of people helping charities through financial contributions and social awareness!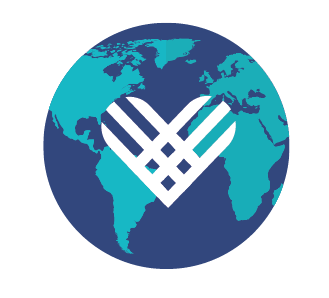 As an Auxiliary to the Government of Bermuda, our staff have been working diligently with Ministry of Health, National Security Ministry, the EMO and the Bermuda Hospitals Board to assist them on various objectives set out by them in response to the COVID-19 pandemic.
Our Disaster Manager has been on calls daily with the Ministry of Health and the EMO to get further directives on what they need from Bermuda Red Cross.  Our thirty-eight Psychosocial First Aid Responders (who are all volunteers) and 4 staff members in the last three weeks have been making public health monitoring calls to close to 3,000 people.  Sometimes we've had to call the passengers two to four times (depending on our initial observations) and forward any and all significant information to the Ministry of Health in a timely manner.
In addition to working with Government Since COVID-19 pandemic hit our shores we, through a generous donor, have been distributing community mask to ensure the senior population and essential service agencies/non-profits have masks for use by staff, volunteers and clients.   To date we have distributed almost 82,000 masks to every rest home, essential services agency/non-profit, food distribution centers, KEMH, MWI and the vulnerable communities in which we work.  This amounts to between 8,000 – 10,000 persons getting served.
During these difficult times, your support today will be used to allow us to continue our work in the community with our seniors and those that are most vulnerable in our community.   If you are moved to donate today, please know how grateful we are to have your support during a time filled with uncertainty.  We know that not everyone is able to provide financial support today, and we certainly understand.  We are always thankful for your support in whatever form it may take.
We hope you are safe and healthy, and we want you to know that we are all in this together!
Bermuda Red Cross
Serving Bermuda Since 1950
Trusted globally   ♦    Focused locally    ♦   Responding impartially